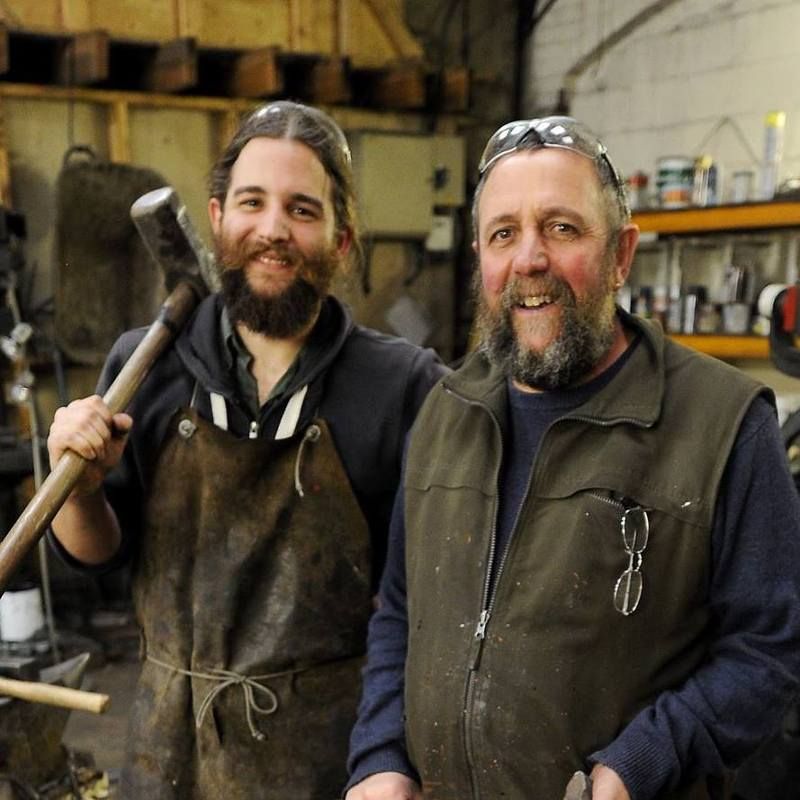 Joshua L Burrell is a traditional blacksmith and toolsmith based in Loughborough, Leicestershire.


Craft and traditional skills have been a constant interest and source of inspiration in Joshua's life, with hand craft being a prominent feature in his family history for generations. Lineage from master builders, ceramicists, boat builders and finally metalwork (from his Parents - Helen, who has been a practicing goldsmith for 30 years and Graham, an artist blacksmith since 1983) are all easily traceable in preceding generations.
After growing up around his father Graham Burrell's forge, (often helping out at weekends and holidays while still at school) his formal training with his father began in 2007 at the age of 17. From there, his experience widened to include a number of heritage crafts and restoration work throughout the UK, thanks to his acceptance on to various prestigious heritage skills training schemes and bursaries.


While his work has included a wide range of artistic and architectural blacksmithing, Joshua soon found that his main focus lay in the creation of beautiful and effective hand tools; especially those tools associated with heritage trades such as traditional oak timber framing, stone masonry and boatbuilding. Primarily supplying the woodworking and forestry industry, specialist items for stoneworking and other trades are possible.

The work has often focussed on rediscovering techniques and tool forms that are perhaps less often seen in the modern marketplace, but Joshua believes in learning the lessons laid down by our predecessors. This adherence to traditional practice can produce works that are in many cases indistinguishable in style and efficacy to tools made in the "golden age" a century ago.
Functionality and aesthetic beauty go hand in hand with all of Joshua's products, and this has attracted worldwide attention from professionals and hobbyists alike. This interest has led to several media appearances, including two pieces for the History Channel, numerous articles and guest spots in newspapers and on radio.